Every Wednesday Kelsey @ The Seattle Smith's posts an 'I wish' writing prompt to get us through those hump days. It may be a wish, a hope, a dream, or an aspiration -- some topics may be fun and playful and others more insightful -- but most importantly, it will give us an opportunity to get to know our fellow bloggers a little bit better, and see what makes each of us tick... it's fun. Check her out & play along.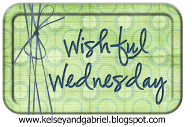 'I wish' .... I had the startup funds to build that company I have always dreamt about, and it would be a:
Weight Loss Camp. I think The Biggest Loser but for people who can't take off for 3 months (or however long they have to take off to go to 'The Ranch'). We would have camp from Friday evening until Sunday afternoon every weekend for 4 months. We'd workout and get personalized workouts to complete on our own during the week. We'd also personalize menu plans for the week and make grocery lists so when you leave camp on Sunday, you can run to the store and be ready for the week. Complete with a spa for weekly mani/pedis/massages. Have physical therapists on staff for all your aches and pains. It would be like a fancy fancy resort.

I'd go if one was available, wouldn't you?